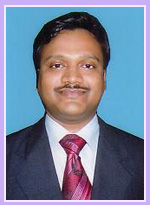 Dr.Santanu Guria born on 26th May, 1977 at Benapur Village, Bagnan Police Station in Howrah District, West Bengal, India. His father Mr. Asutosh Guria is retired Bengali teacher at local Tepur Higher Secondary School. Mother Mrs.Karuna Guria is housewife.
Dr.Santanu Guria showed his penchant for literature since his early younger days & took his first lesson in writing from none other but his own father. Stood 5th in Higher Secondary Examination from Narendrapur Ramakrishna Mission residential college in 1994. Took admission at IIT Kharagpur but due to mother's intense desire to be in touch with common people he took admission at Medical College Calcutta & left engineering thereby.
Passed MBBS, D.C.H. and MD (Pediatrics) one after one with grand success but started practicing medicine from 2005 as per suggestion of his mother.