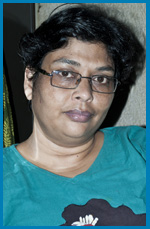 Objective: To work passionately and with love. To work in a group with a continuous learning process.
Total Job Experience: 17 years.
Previous Employer:
COALESCE Technologies, Chennai, Amstar Technologies, Bangalore, WISE - IT, Bangladesh, EL-NET-3L (Technology Foundation of IIT- Kharagpur), SM- Online IT Education Centre.
Present Profession:
Self Employed : Freelance Software Trainer.
Java Trainer
C, C++, Oracle Grit, Linux Trainer
Window Software Trainer
DOMAIN:
C, C++.Core Java, Webpage Design, RDBMS Concept with Oracle using Windows and Linux, UNIX platform.
BASIC Qualification: B.Sc from Calcutta University.
Extra curricular activities : Interested in Photography. Equipments: NIKON DSLR 80 with Lenses VR: 18-55 and Block: 70-300
Best Captured: Featured, Portrait, Landscape, Animal and Still Life.