About Founder :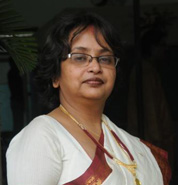 Mrs. Manjeera Chakraborty is attached to this education field for the last 20years. She worked in Mother's Pride, New Delhi, one of the most prestigious and reputed chain of schools in North India for 7 years. There her dedication and innovative way of dealing with children made her a member of research & development unit of the organization. She shifted her base to Kolkata in 2002 and joined 'Zee Education'. She was an integral part of launching 'KidZee' in Kolkata. She worked for ten years in St. Sebastian's School, Lake Gardens (ICSE & ISC) as an administrator. During this long journey of almost 20years she closely observed children's psychology, felt the importance of being trained as a teacher, learnt about the parent's expectation. All these experiences inspired her to open her own institution 'STEP AHEAD'--- through which she would provide wings to dreams of children and in turn will contribute towards the making of a healthy nation.
Thoughts Behind:
While dealing with the children and the process of imparting knowledge to them Mrs. Manjeera Chakraborty has felt the utmost necessity of a trained teacher in the educational environment as child's first role model is his/her 'Teacher'. In every child's life 'Teacher' is that person who opens the world of knowledge and guides him/her throughout the journey. Driven by this thought, she opened 'STEP AHEAD' NURSERY & PRIMARY TEACHER'S TRAINING CENTER.
Our Credential:
STEP HEAD Nursery Teacher Training Center is affiliated to All India Early Childhood Care & Education, New Delhi. Regd NCT govt. of India. No. S- 43128. Our syllabus follows the NCERT guideline. Which is also accredited by IAO( International Accreditation organization, Houston U.S.A)
Our Offer:
Primary and Nursery Teacher's Training (1 & 2 years course). At the completion of which the trainee will get:
Certificate for teaching up to class V (primary)

Diploma in child education and applied psychology ( 1st year)
Advance diploma in child education and applied psychology (2nd year)
To join directly for the 2nd year course, the candidate will have to pass 1year N.T.T (5 or 7 papers) in any year from any institution or organization.
The primary certificate allow the holder to teach children upto class V in any private school. The diplomas allow the holder to teach children up to the age of 6years, through all the modern methods of teaching (Kindergarten method, Nursery method, Play way method, Montessori method, project method etc.). These diplomas enable the holder to apply in any pre- primary school all over the world as the syllabus covers all the modern methods of teaching.