Lymphoma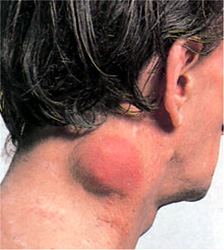 • Definition of non-Hodgkin lymphoma:
Any of a large group of cancers of lymphocytes (white blood cells). Non-Hodgkin lymphomas can occur at any age and are often marked by lymph nodes that are larger than normal, fever, and weight loss. There are many different types of non-Hodgkin lymphoma. These types can be divided into aggressive (fast-growing) and indolent (slow-growing) types, and they can be formed from either B-cells or T-cells. B-cell non-Hodgkin lymphomas include Burkitt lymphoma, chronic lymphocytic leukemia/small lymphocytic lymphoma (CLL/SLL), diffuse large B-cell lymphoma, follicular lymphoma, immunoblastic large cell lymphoma, precursor B-lymphoblastic lymphoma, and mantle cell lymphoma. T-cell non-Hodgkin lymphomas include mycosis fungoides, anaplastic large cell lymphoma, and precursor T-lymphoblastic lymphoma. Lymphomas that occur after bone marrow or stem cell transplantation are usually B-cell non-Hodgkin lymphomas. Prognosis and treatment depend on the stage and type of disease. Also called NHL.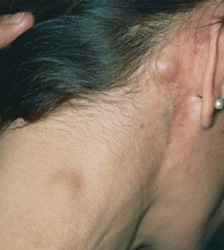 • Definition of Hodgkin lymphoma:
A cancer of the immune system that is marked by the presence of a type of cell called the Reed-Sternberg cell. The two major types of Hodgkin lymphoma are classical Hodgkin lymphoma and nodular lymphocyte-predominant Hodgkin lymphoma. Symptoms include the painless enlargement of lymph nodes, spleen, or other immune tissue. Other symptoms include fever, weight loss, fatigue, or night sweats. Also called Hodgkin disease.