Dr. Subhankar Deb has done his Master's in Surgery (MS) and subsequently received Diplomate of National Board Degree (DNB) conferred by Ministry of Health, Government of India.


PRESENT POSITION:
Head Department of Surgical Oncology, AMRI Hospitals, Dhakuria
Senior Consultant Cancer Surgeon, Kothari Medical Centre
FORMERLY:
Senior Consultant Cancer Surgeon, Apollo Gleneagles Hospital, Kolkata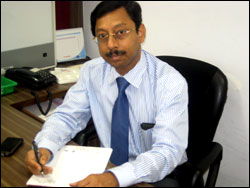 Dr. Deb has been relentlessly pursuing the field of oncology for almost two decades. He has worked as Cancer Surgeon in various renowned hospitals of the city. He is currently the Head, Department of Onco-Surgery at AMRI Hospitals, Dhakuria, Kolkata. He is also a Senior Consultant Onco-Surgeon at Kothari Medical Centre, Kolkata. Formerly he was Senior Consultant Cancer Surgeon at Apollo Gleneagles Hospitals, Kolkata. AMRI Hospitals Kolkata, Dhakuria is one of the most renowned multi disciplinary hospital of Eastern India, where cancer treatment facility has been developed as a super speciality unit. It has three departments namely, department of Surgical Oncology, Medical Oncology and Radiation Oncology.


Dr. Deb had conducted over 6000 cancer and tumour operations successfully with excellent results. Dr.Deb has received specialized training in hepato-billiary cancer in ASAN MEDICAL CENTRE, SEOUL, SOUTH KOREA, a world famous hospital for liver transplant and hepato-billiary cancer surgeries. Subsequent to his specialized overseas training, Dr Deb has performed over 100 successful liver resections. His work was highly commended by the medical fraternity. Apart from this, he regularly performs operations for breast cancer, oral cancer, throat cancer, thyroid cancer, gastro-intestinal cancer, gynaecological cancer, urological cancer and other miscellaneous cancers.