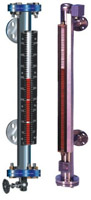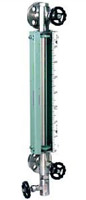 TRANSPARENT GLASS TUBE LEVEL GAUGE:
Reflex & Transparent Flat Glass level gauges are design for safe and positive visual indication of liquid level in vessels under high pressure & temperature conditions.
Connection type : Hook up / Straight thru.
Process Connection : 20 /25 NB flanges to various standards.
OPTIONAL – Illuminator, Frost Free extension, Jacketing for heating / cooling, Auto Ball check.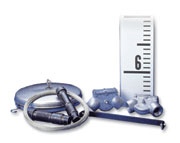 FLOAT & BOARD TANK GAUG FOR LIQUIDS:
Liquid storage tanks having corrosive fumes / vapours as well as tanks having pressure max. up to 1 Kg/Sq.Cm..

Optional- Adjustable Switch.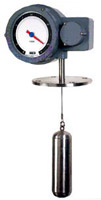 FLOAT & DIAL GAUGE:
Suitable for liquid sumps, Floating Roof, Gas holding tank.
Measuring Range : up to 15 Mtrs.
Least Count : 5 mm.
Max. Temp. : 150˚ C.
Max. Pressure : Atm.
OPTIONAL – Adjustable Switch, Transmitter.