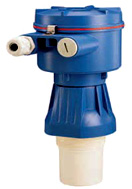 Ultrasonic Non-Contacting Switch:
The measuring range for bulk solids is max. 3 m (9.8 ft) and 5 m (16.4 ft) for liquids and slurries. Unlike invasive contacting devices, there is no material buildup on the sensor.
MAGNETIC FLOAT OPERATED PIVOTED LEVEL SWITCH:
Applications :- Liquid
Mounting- Side / Top
Process Connection- Flanged or Screwed
Max. Pressure- 20 Kg/Sq.Cm.
Max. Temp. – 350 deg.C.
Switch Enclosure : Cast AL, Weatherproof to IP 56 / IP65 or Ex- proof for gr IIA & IIB or IIC
Accessories (Optional) : External cage, Counter flange with nuts, bolts and gasket.




MAGNETIC, FLOAT OPERATED GUIDED LEVEL SWITCH:
Hermetically sealed glass encapsulated reed switch.
Option of remote or integral control unit.
Option of remote counter & totaliser for volume application.
Option of Intrinsically safe switch with zener barrier.
Max. Temp. – 150˚ C
Max. Pressure – 25 Kg/cm²
Special Features : Intrinsically safe to
Ex ib Gr IIA- IIB T6 (with zener barrier
24 VDC/110 mA)

DISPLACER TYPE MAGNETIC LEVEL SWITCH:
Wide choice of switching functions.
Suitable for large tanks up to 15 Mtrs.
Site Adjustable switch points.
Customised for high temp., high pressure & vacumm service.
Reliable performance in turbulent liquids even without still pipes.
Enclosure : W-proof- IP- 66, Ex- proof- Gr IIA & IIB or IIC.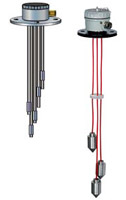 CONDUCTIVITY TYPE LIQUID LEVEL SWITCH:
For conductive liquids, having low densities, high viscosities, containing solid particles and interface between non conductive and conductive liquids.
Available in Solid and Suspended probes.
Enclosure : Cast Al, W.proof IP- 66, Ex- proof Gr. IIA & IIB or IIC.
Option – Auto / Manual mode thro' toggle switch can be provided in controller if reuired.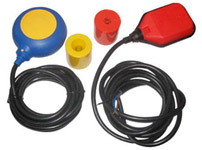 FLOAT OPERATED TILT TYPE LIQUID LEVEL SWTICH:
Widely used in sumps, sewerage, factory drainage, sludge & highly glutinous liquids and soil water containing suspensions for automatic switching of pumps.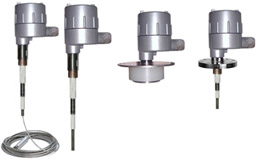 RF ADMITTANCE POINT LEVEL SWITCH
High reliability as coat guard technique ignore material built-up on the probe.
Suits highly dusty environment.
Field selectable operation logic to configure either high or low level switching.
Suitable for powder, pellets, slurry, sludge etc.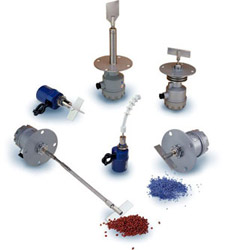 ROTARY PADDLE LEVEL SWTICH:
Used for detecting the level of free flowing solids / bulk materials.
Power Supply : 110 or 220 V AC ± 10% (50 – 60 Hz)
Operating Temp. - -10 to 150˚ C
Installation : Side / Top / Angular
Enclosure : Cast Al or ABS x W.Proof IP- 65 as per IS 13947 – 1993.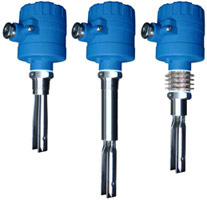 VIBRATING FORK POINT SWITCH:
Used for liquid as well as free flowing powder, grains and granular solids.
Based on Piezo driven technic.
Fail safe design.
Unaffected by environmental changes e.g. temperature, pressure, humidity.
Ex- proof version Gr IIA & IIB for hazardous application.